---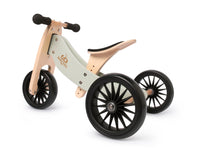 2-in-1 Tiny Tot PLUS Balance Bike Kinderfeets (Silver)
Kinderfeets
Is your little one eager to start exploring the world on wheels? The Kinderfeets Tiny Tot PLUS 2-in-1 Bike is a larger version of the favored Tiny Tot 2-in-1 Bike - a vehicle that doubles as both a tricycle and a balance bike when children are ready. With an adjustable seat height of 10-13 inches (25-34 centimeters) and a weight capacity of 55 pounds (25 kilograms), children ages 18 months to 4 years can comfortably and safely explore their spirit of adventure.
Product dimensions: 28.3" L x 17.7" W x 17.3" H (72 x 45 x 44 cm). Available in natural bamboo and colored birchwood - an eco-friendly, replenishable resource.
Suitable for ages 18 Months - 4 years - up to 55 pounds (25 kilograms).
Stained with non-toxic, water-based stain. paint.
COMFORTABLE AND SAFE - This bamboo balance bike is equipped with a padded seat and a soft handlebar grip, providing an extra level of safety and a comfortable cycling experience for young riders so they can ride all day long.
LIGHTWEIGHT AND STRONG - Its lightweight bamboo frame makes it easy for the young riders to handle and carry so they can travel further. Bamboo is stronger than steel and heartier than most hardwood, making this bicycle strong and highly durable.
EASY ADJUSTABLE SEAT –The bike seat is easily adjustable, suitable for kids from 2 years old. The saddle height can be adjusted from 33 cm to 41 cm and it is suitable for children with a minimum height of 85 cm.
EASY TO SET UP - The bike is very easy to assemble, normally takes 20 minutes to assemble it. The wheels are securelyattached and ready to ride.
EXTREMELY SAFE DESIGN - Sturdy frame that can survive multiple bumps, puncture proof tires, and the adjustable seat make this bike the ideal option for young beginners learning to ride a bike. Its extremely safe design reduces risk of injury.